Topshop leather jacket // Alternative Apparel long sleeve // my grandma's skirt // F21 rib knit leggings // Proenza Schouler shoes
Last week some friends came in from Japan (hi May!) so we went out to Bazaar at the SLS Hotel. I wasn't very well off growing up, in fact we were quite the opposite. But even though my parents were poor immigrants scraping by, they always spent their hard-earned money on really great food for us. Eating is a total experience in my family. All of my uncles have, at one point, owned some sort of food business, so I basically grew up having a strong appreciation for all things delicious. However, you will never hear me refer to myself as a foodie. I feel like there's a hint of pretension with that title, which doesn't play into my kind of appreciation. I don't really care who made it or what rating it has or what special, rare ingredients are in it. If it tastes good, I like it. My tastebuds are actually kind of ghetto, I'd say. Hole-in-the-wall places and old family recipes will always take precedence over fancy packaging and ambience....which is why I've always been apprehensive about going to Bazaar. It was...nice...but totally not my deal. I'll show you some food pictures so you can see what I had, just in case you're curious but don't want to go either.
Baby Beet Salad - by far the largest portion out of everything we ordered. CUBES.OF.BEETS.

Foie Gras sliders - the hand is there to show you the scale. You have to put the whole thing in your mouth or it poops all over your hand.
Boneless Chicken Wings with Green Olive Puree - these were good, but I can make them at home. In fact, I will! You can come over. I'll make 900 so you can have more than 2 without worrying about bankruptcy.
I forget. I just hope my cousin isn't looking at this. She has clusterphobia.
Caprese Salad - those are liquid Mozarella balls. Liquid goo explosion in your mouth? I know....
"Corn on the Cob" - I would have put quotation marks around it anyway just to be funny, but that's how it really is on the menu. You know the size of baby corn right? That's 8 of them, for $11. I have two cans at my house, I will give you a discount for $1 a spear. Maybe I can buy a new pair of shoes.
The Infamous Cotton Candy Foie Gras - I put "The Infamous" in for dramatic effect. Because there is none of that when it actually comes out.
Philly Cheesesteak - air bread, cheddar Wagyu Beef. We ordered these after some of the food had already come out, so I had to actually ask if there was really bread or if it was hypothetical "bread." Considering what was coming out, it seemed like a perfectly valid question.
It was actually really delicious, but drippy sauces on my finger are the arch nemesis to my OCD.
see?
Then we had to goof around in the lobby, much to the chagrin of all the other patrons. Why so serious?
In the pursuit of retaining some of Pixelman's pixelness.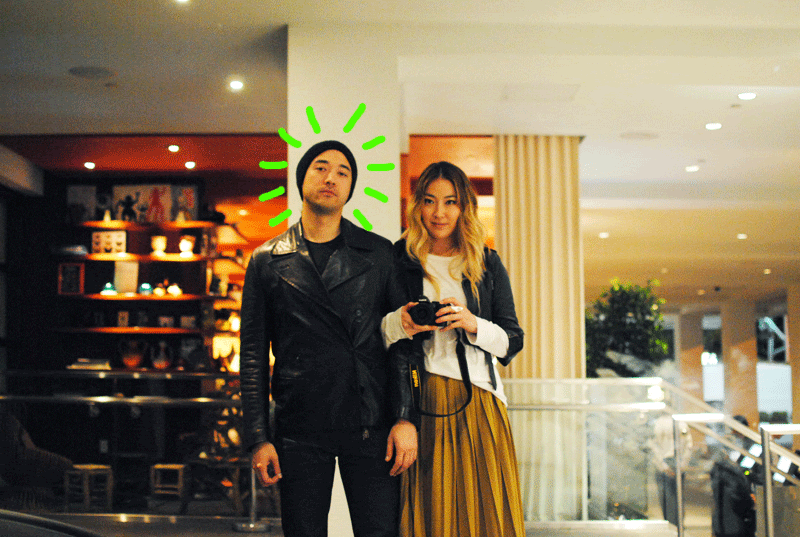 BAZAAR!
Go there if you want! Or don't!