I've had a pretty poor track record with chronicling my travels on the blog, usually because in the end I don't want to share
too
much about my personal life. Traveling to me is such a personal, intimate experience that's difficult to summarize by slapping some photos on the internet and calling it a day. Or am I just making another grandiose excuse for laziness? Well this trip was a little different since it was for work so I'm making more of an effort. Plus, I find myself living vicariously through others' travel photos when I'm stuck at the office. Kick your feet up in the cubicle and enjoy (or be annoyed by) (
it's all perspective people!
) part dos...Berlin.
This leg of our journey was primarily to attend tradeshows. The first was Bread & Butter at this historic (now non-functioning) airport. I won't get into the details, but Germany is a country rich in history and everywhere there is a story to be told.
Heading from one side of Berlin to the other, to catch the Bright tradeshow.
Held in the old Stasi Headquarters building. The registration area had all these etched portraits in the floor...
Tradeshows get pretty
seen-one-seen-em-all
, but this one had an interesting mini golf room. It was like an interactive art installation. You can watch a video about it
here
...
Sick of this outfit yet? I know I was. This time with Ann Demeulemeester boots...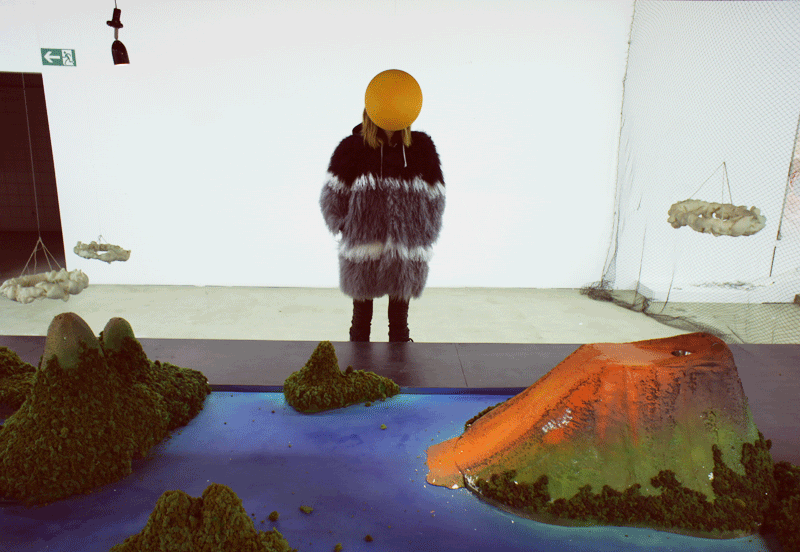 The next day exploring Berlin retail. Three words come to mind - rain, hypothermia, and graffiti.
My friend performed at the Platoon in Seoul so I was super excited to spot one in Berlin.
I think by this time we had had some form of meat and potatoes for every single meal for days, so my digestive tract was in dire need of a break. All I kept thinking about was Jamba Juice. We chanced upon this Korean restaurant and I damn near cried. If you're ever in Berlin, check it out! Yam Yam...
Unintentional stylin. Rain was coming from every which direction and my beanie just wasn't cutting it, so I had to make an emergency headwear purchase. Looking at this photo I like how the Kelly Wearstler scarf adds a little contrast. I'm generally not a stylish traveler, mostly plain black outfits. One good thing about face-freezing-off weather though, it does just that. It literally freezes your makeup to your face. No matter how much rain got misted into my face or how much breath vapor dampened my face under my scarf, I would come home to the hotel at night and it would all be there exactly as I left in the morning. This would never happen in California.
The one touristy thing we got to do was visit Checkpoint Charlie, the remnants of a main crossing point from East Berlin into West Berlin where the wall used to be.

Like I said, lots of history.